BJN Session Leaders 2020!
Irina Shikhman
Successful Russian journalist, blogger, presenter of the popular YouTube channel with over 800 00o subscribers. Her project YouTube, «А поговорить?», created in together with Maria Viskunova, is considered a broadcast that is tantamount to another popular YouTube show "вДудь". Irina managed to work on different TV projects as «Двойные стандарты» (НТВ), «Детали. Новейшая история» (СТС) , projects on "Домашний" channel, where she talked about the eternal problems of men and women, "Интер"  channel, where popular Ukrainian artists shared their secrets and many others.
Marat Gelman
Is a famous art collector, gallerist, columnist and art manager. Since 1988, collects works of modern art. In 1990, after moving from Chișinău (Kishinev) to Moscow, he founded one of the first private galleries in Russia. The former Director of PERMM contemporary art museum in Perm. The Deputy Director of «First Channel» (Russia) from June 2002 to February 2004. In 2014 Gelman moved to Montenegro to implement cultural projects. That was also the year when he launched Dukley European Art Community art-residency.
Bo Kragh 
Swedish banker, financier. He graduated from the Stockholm School of Economics, served in the Swedish army as interpreter of Russian language. Since 1972, he joined Svenska Handelsbanken, one of the largest banking companies in Sweden. At the beginning of his career he worked at the Bank's Representative Offices in Spain and West Germany. In 1974-1977 he served as the Bank's Chief Representative in the USSR. Later worked as the Bank's Relationship Manager for Africa, South East Asia and International Organizations (United Nations, World Bank, IMF etc). In 1990-1992 Assigned by the Bank as Advisor to the Estonian Prime Ministers Edgar Savisaar, Tiit Vähi and Mart Laar. In 1992-1993 – assigned as Vice Governor of Bank of Estonia and at the same time as Advisor to the Latvian Prime Minister Ivars Godmanis. He later served as the Bank's Chief Representative in the Baltics,  Bank's Relationship Manager for the Baltics, the Balkans and Africa and  Bank's Relationship Manager for Russia, North Africa and the Middle East. 2016 Retired from Svenska Handelsbanken.
Artyom Goldman
IT entrepreneur.  In 2017 joined the list of successful entrepreneurs under 30 years of Forbes with the company Visabot (AI, which replaced the work of an immigration lawyer). According to Bloomberg, Visabot is in the top 5 IT solutions for emigration to the States. According to the NY Times he was among the top startups to help people. More than 100,000 people used the service before the sale of the company. The project attracted investments from Skype, Tesla, Space-x. Currently Artyom is the founder of the dumbstartup.com community for entrepreneurs to enter the US market and the owner of Elixir Premium Lab, a cosmetic brand sold in the United States. In the future, Artem plans to release more products and develop the e-commerce field.
Evgenii and Lena Kogan
Repatriated to Israel in 2015 from Moscow. In Russia Evgenii worked as a journalist and editor, literary editor at Corpus Publishing House. He is the author of four books of prose, one poetry collection, author and compiler of several books, researcher of early Soviet literature. Lena worked as a journalist and editor, news editor on the TV channel «Культура», and stood at the origins of the adoption of the «Радио России» project "Детский вопрос". In December 2015, Evgenii and Lena founded the book store and cultural center "Babel" in Tel Aviv with an almost daily lecture program and a high-quality assortment of books. In addition, Lena opened her own clothing label "the Skirt".
Igor Meerson
Is one of the pioneers of the Stand-Up Comedy genre in Russia. Included Comedy Club (TNT), "Leningrad Stand-Up Club" (STS), "Вокруг смеха" (1 Канал). Igor is a TV-radio presenter, scriptwriter. Igor Meerson is the only Russian comedian who successfully performs on the English-language stage. Participant of the festivals: Fringe (Edinburgh), Cat Laughs Festival (Ireland), Montreux Comedy Festival (Switzerland), Turku Comedy Festival (Finland), Melbourne Comedy Festival (Australia), Panc Comedy Festival (Slovenia), Johannesburg International Comedy Festival (South Africa) . Performs around the world: from USA to Germany, from Israel to Estonia, more than 50 solo concerts in the UK, 24 solo shows in Australia.
Stas Wojciechowicz
Born and raised in Uzbekistan, studied in the U.S. as a high school student. He immigrated to Israel in 1994, at the age of 17. Worked and studied at the kibbutz, served in the I.D.F at the Education and Youth Corps, graduated from the University of Haifa. Ordained as rabbi in 2006, by the Hebrew Union College – Jewish Institute of Religion, Jerusalem. Served as a congregational rabbi in Ashdod, Israel, and St.Petersburg, Russia. Since 2010, he has served as the first Progressive rabbi of the Jewish Community of Warsaw. Fluent in four languages: Russian, Hebrew, English and Polish.
Ilya Lensky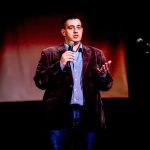 Graduated from  Š. Dubnovs Jewish secondary school and   University of Latvia, History. Worked as a teacher and tour guide. Since 2008 – director of the museum "Jews in Latvia".
DJs: Bandit & Misha Panfilov
Misha Panfilov is a Tallinn composer, producer, multi-instrumentalist and vinyl collector, he is part of such projects as Estrada Orchestra, Misha Panfilov Sound Combo, Center El Muusa, Hanz Mambo & his Cigarettes, Dead End Boogie and more. DJ Bandit-plays with Misha Panfilov in his two musical projects, as well as in the ensemble Modulshtein, a DJ with experience, a vinyl collector.
MORE INFO COMING SOON!